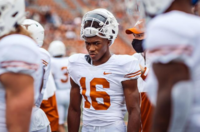 The most interesting thing other than the Bijan run (which we will get into later) that happened this last week is that WE FINALLY SOLVED THE MYSTERY. We figured out who Steve Sarkisian looks like.


Blammo, we can not put it to bed. I know it has been bothering Longhorn Fans all over the world ever since Sark was announced to be the new HFC at the Great University of Texas. 
Back to your regularly scheduled badassery. Check this run out.
If this doesn't get the blood pumping to your special parts, then you don't like longhorn football and you can now close out the article, because what we are about to talk about is only for those willing to enter the Burnt Orange Cathedral that Bijan and Co. are building.
Bijan Robinson is the truth, he cuts on turf like a tarpon darts through the shallows off the coast. He is truly in his element on the field and it's going to be something special to watch in the upcoming season.
But wait, this grown ass man would like a word:

RoJo should still starts - he isn't RB2 at this point, due to his incredible physicality and gift for creating yards where there are none to be had. There will be a true 2 headed monster coming out of the Texas Backfield this Fall and it's going to be glorious. 
I almost forgot in all the excitement to talk about SCHOOLER switching to safety. Yep, you heard that right - he is officially moving away from WR and moving to Safety for the '21 season. 
I mean check out these 2 mean ass dudes, BJ Foster and Kitan Crawford - these dudes look ready to shut down anything coming their way.

With that we get into pure and rampant speculation because we have absolutely dick to go off of as far as film, or anything else. The 9.95ers got the opportunity for some media availability with Sark, Okafor and Gbenda. All completely worthless information given in all the interviews. 
Sark's summary could be - he's not bummed about what he sees and thinks that the team is responding well to his regime and the way they do things.
Okafor's summary could be - I want Casey to starts, I like to play football, the NFL may be a thing for me now that I don't have a completely shit coach after having 4 OL coaches in his time here through 3 regimes.
Gbenda's summary could be - You all know I'm not as good as some of the great linebackers, but I'm trying to be real good. 
We had a CTJ sighting, basically giving us all a glimpse into how we need to feel going into next season:
and with that we have basically ended the week knowing absolutely nothing more than we knew last week. Things around the program and with the players definitely feel  much different than past years. Maybe...just maybe we will get a glimpse of some real footage when All Access returns on the 23rd, right before the spring game on the 24th!
I'll again leave you with my current mood. Beast Mode: Bring it.

Hook 'Em