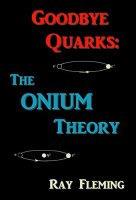 After 32 months of research and writing I finished my new book Goodbye Quarks: The Onium Theory. In the onium theory I extend the relativistic positronium solution of Feynman and Sternglass to all particles and resonances such that all of them can be shown to be made of only electrons, protons, and their antiparticles. This theory accounts for the decay products, unlike the quark model. And it explains the masses, above and beyond the masses of the component electrons, protons, and neutrons as relativistic mass.
I also use basic quantum field theory to examine the structure and properties of electrons and protons to show that they have the same basic structure and should be thought of as two different charge-matter variations of the same basic type of particle. So my claim is that there is only one particle.
I started this as a test to see if such a model could be done and the results were even better than I imagined. The precise match of most of the masses makes me confident that the basic theory is correct even though it still needs work in some areas. The Bohr-Sommerfeld solutions on which it is based are acknowledged to be overly simplified, while still frequently within 0.5% of the correct mass.
For example rho and omega mesons are made of 4 pion group resonances which is why their masses are approximately equal to the combined masses of two pions and a kaon. Compare that to the irrational formulas used by the quark model for the neutral rho and omega.
https://www.amazon.com/dp/B0897JYYLG/ref=sr_1_1?dchild=1&keywords=ray+fleming+goodbye+quarks&qid=1590625411&sr=8-1